Morgan Brooklands Edition
The Brooklands goes out of earth in 1907. Like any self-respecting English manufacturer, Morgan participates in several races and gets records. The craftsman is launching a limited series in tribute to the circuit.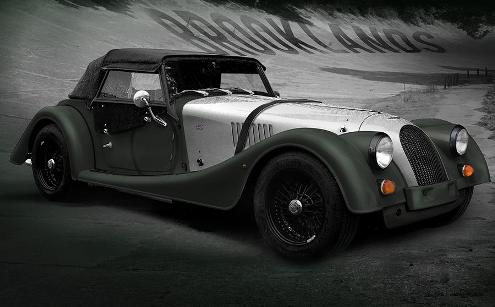 The Roadster V6 will offer "jaguar Brooklands" hood with satin silver, black grille, black hood fasteners, silver side panels (blacks, optionally), black wheels and two anti-roll bars. Inside, the dashboard is painted body color; it receives leather upholstery and a steering wheel "Brooklands".
Price: £40,000 (€46,300) as an option, its offer including a sport exhaust.
The three-wheeler is proposed green "jaguar Brooklands" or polished silver (with extra rivets, for the look). It receives "Brooklands" exhaust, a saddlery + barrel black leather + black rubber floor mats, black hood fasteners and chrome engine.
Each model will be produced 50. Buyers will receive a book on the centenary of Brooklands and a membership card valid for one year.