Los Angeles 2014 : Nissan Juke Color Studio
On the occasion of the Los Angeles Auto Show, Nissan USA unveils its Juke crossover through a new offering centered around the customization…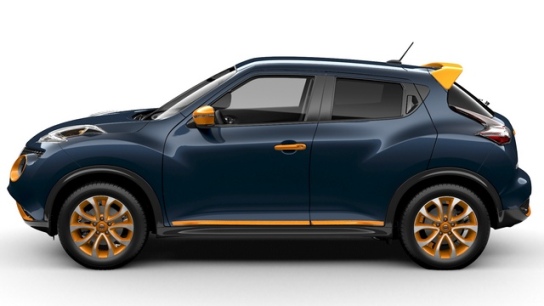 In the US market, the Juke crossover (4×2 or 4×4) is proposed through several trim levels. There are S, SV and SL finishes but also Nismo and Nismo RS declinations. Nissan expands far offer programmed through Color Studio. The pitch is pretty simple and comes down to the customization options available to customers when ordering.
Several colors are declined on the outside as red, yellow, orange, electric blue, purple black, white, matt black and faux carbon fiber but also for black inserts on board. The customer can then choose between these different shades between shields, strapping mirror covers headlights, door handles, roof spoiler, side moldings, etc.
The program for customizing as: mats, different alloy wheels, center caps, etc. These various accessories can be ordered by the customer who will also have the opportunity to configure and preview their choices on a microsite opened for the occasion. In short a customization offer for the Juke as already proposed to us through the Design Studio.