Kahn Design and Land Rover Defender 6×6
For those that Mercedes G63 AMG 6×6 try but would awake too late to have one, Kahn Design offers its "Flying Huntsman 110 WB 6×6 Concept", a Land Rover Defender in 6-wheel drive.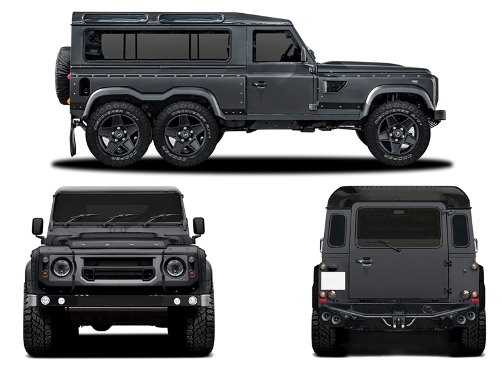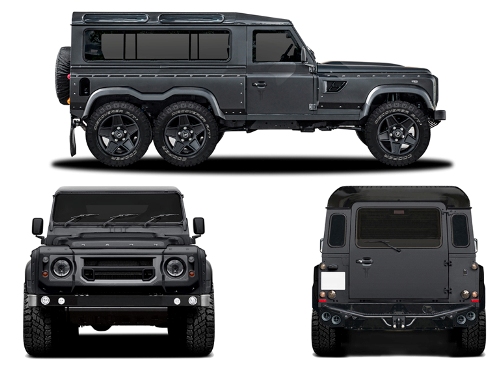 Kahn Design has to become the coachbuilder of England, extinct according to the company (that is to forget too quickly Lynx Motors or Eagle or other). Therefore finished the simple preparation (often a bit too oily), Kahn Design goes to the creation of specific vehicles. To show skills, Kahn will therefore bring to the Geneva Motor Show which opens on March 3 that Land Rove Defender 6×6.
It is equipped with a GM 6.2-liter V8 originally mated to a 6-speed automatic transmission with possibility of putting in sequential mode. Kahn indicates a capacity of 430 horses but do not communicate the total weight of its baby. Knowing Kahn, it can be assume that the Def 6×6 will not be too asthmatic. All details will be given during the presentation in Geneva.
The "Flying Huntsman 110 WB 6×6 Concept" has no 6-wheel drive for the pageantry. Indeed it has a system of short reports and differential can be locked. The chassis, brakes and all the suspension system have been revised to be comfortable off-road. Relative to a normal Defender 110, the 6 × 6 concept is 40 cm in length at cover and 80 cm in the cabin level. 1.20m addition, this brings the total to 5.80m length. As the vehicle becomes a coach, the front doors are lengthened to facilitate the entry and exit of rear passengers.
Obviously as usual with Kahn Design, everything can be customized to body type (hard top, pickup, coach as here) and the vehicle could even be shielded by international standards, up to B7 level. The "Flying Huntsman 110 WB 6×6 Concept" is as its name suggests a concept but Kahn is putting in place a small series production of the vehicle.