2015 Detroit Auto Show: Ford F-150 Raptor
The dreaded F-150 Raptor is important for the image of the best-selling pickup in the United States. Present on the Ford stand at Detroit, the pickup returns far more powerful, lighter but mostly opts for downsizing!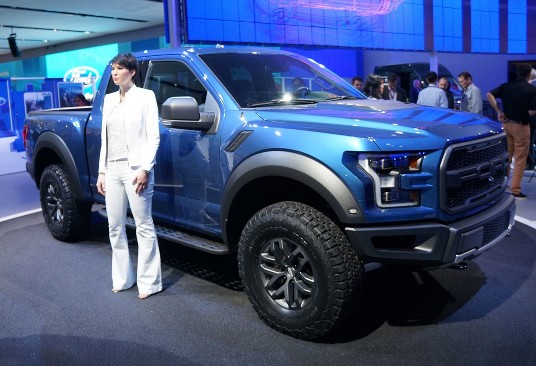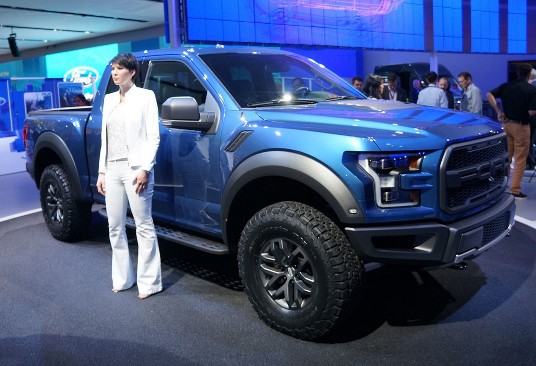 If Ford wants to become a builder with less polluting small victorious EcoBoost engines in America, the star is the F-150 pick-up. The against-perfect example of its orientation was the F-150 Raptor, an ultra sporty and aggressive version of the best-selling brand. It's over. If the current SVT Raptor enjoys a huge 6.2L V8 of 411 horsepower, the new version opts for an EcoBoost engine, however far from the small 1 liter gasoline.
The V8 is thus transformed into a "small" 3.5-liter V6 EcoBoost helped by two turbochargers. As the public prefers the big V8 and not to the crease, Ford shoots the map of the power and announced, without the clear for the moment, the 411 horsepower and 588 Nm of torque will be largely exceeded. Everything will be sent to all four wheels by one auto gearbox to ten reports.
Displacement down forces, the new Raptor will also become less fuel thanks to a weight revised downwards (-227 kg) via the use of aluminum. A new transfer case is added while guests can add an optional Torsen limited slip differential in the front. Six driving modes are offered by this Raptor to fit every type of road. The chassis is raised and still allows you to see the impressive Fox Racing suspensions. Nevertheless, they fit now better into the overall aesthetics and we appreciate the effort on this point. Released in 2016.