Hyundai Veloster C3 Roll-Top Concept
When one holds a model with success, it is necessary to benefit and beat iron from it as long as it is hot. It is following this adage that Hyundai has developed a proposal for a convertible variant of the Veloster, both the convertible and pickup to seduce lovers of outdoor life, young people necessarily.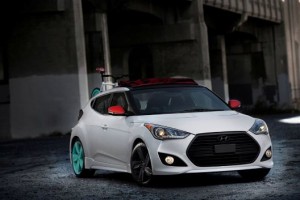 With the Veloster, Hyundai has added to its range an original model that is able to change its image. And with more than 30,000 units in the U.S. in 2012, it sells quite well… The urge to decline the range is so well presented. From a coupe, the convertible is quite clearly the most logical direction, and to go faster, the solution could be a roof like the Fiat 500 or Citroen DS3. It is in any case that suggests this concept which keeps the asymmetrical sides (C3 means Convertible 3 door).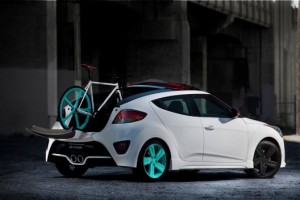 To make a concept even more suitable at the Los Angeles show, it turns into something small pickup with its rear seat, roof folding to the choice at the front or at the back… and its floor of trunk equipped with recycled skate-board. In the same spirit of recycling, the roof consists of old truck tarpaulins. As colors that confirm the "sliding" image of the Veloster, it is inspired by the universe of fixies, these bikes custom speed without brakes… Inspiration only for the color agreed.