Ford Fiesta: Production launched in Cologne
New step in the career of the Ford Fiesta: the launch of the production has just taken place within the German factory in Cologne. The first deliveries should arrive gradually on markets from the start of next year.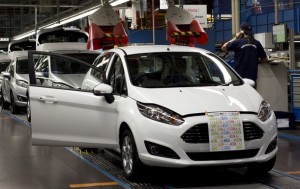 While all generations combined, Ford will have elapsed more than fifteen million copies since 1976, the restyled last began its industrial career in the German factory in Cologne. For the record, the Ford Fiesta will be offered through seven different petrol or diesel engines.
It will also receive the latest technological developments of the brand image like systems SYNC, MyKey and Active City Stop. In market, the Ford Fiesta will appear on the entry price of €11,750 ambient finish with the 1.2 of 60 hp when the entry price of diesel (1.5 TDCi of 75 hp) is displayed to €14,350. Count more €600 for the five-door version except for the entry-level petrol (+ €900).