Ford Fiesta features the Active City Stop system
All manufacturers are working on active safety systems including the automatic braking system to try to avoid the most accidents. We remember the PRE-SAFE Mercedes Brake system or that of Toyota, Pre-Crash Brake.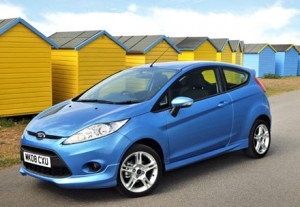 Ford Group has also focused on the topic: first unveiled on the Ford Focus in 2011, and later on the C-Max and B-Max, the automatic braking at low speeds, Active City Stop, takes its place in the new Ford Fiesta.
In city, which was not afraid of the vehicle which precedes you and that brake roughly without reason? Where simply of an instant of inattention on behalf of the driver? As for other systems of the same type, Active City Stop of Ford Fiesta brakes all alone in case of danger.
The systems use a laser remote sensor implanted in the windshield and scan the road 50 times a second (or 2 times faster than a film camera). If danger there is the system initiates automatic braking and can prevent accidents up to 15km/h and reduce the consequences up to 30km/h.
In principle, the Active City Stop system supervises and monitors continuously measure the distance to the vehicle ahead. Depending on traffic conditions, it calculates the risk of hitting a stopped or idling vehicle and pre-loads brake to decelerate optimally. If no driver reaction (avoidance or braking), the system activates the brakes, reduces engine torque and turns on the hazard lights instantly. A central display on the screen tells you that the system has made the decision to stop.
"Urban traffic is responsible for many accidents at low speeds, often because the driver does not see time as the car slowed that proceeds" explains Florian Schweter, development engineer of the Active City Stop for the new Fiesta. With the density of traffic, the circulation in accordion and all sources of entertainment it is reassuring to be able to depend on a guardian angel as Active City Stop, which never leaves the road ahead.