Fiat Bravo Xtreme: special preparation of 253 hp to Sao Paulo
The Sao Paulo Motor Show this year has brought us a few new features. Fiat has interests in a large market with a potential as the Brazilian and has taken up the entire artillery to attract new customers. And among these developments have been an impressive preparation called Fiat Bravo Xtreme, work of the Fiat LATAM Design Center.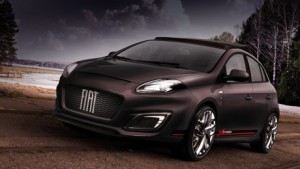 On the popular Fiat Bravo have introduced a number of notable changes and externally, as the new bumper with a huge rack that is inscribed with the name of Fiat in a considerable size or lower lip of the bumper. Also known for their aesthetic curves LED lights that line the side air intakes, the headlights and taillights are newly minted.
In the area behind the Fiat Bravo Xtreme also has a lot of muscle. The rear bumper has a diffuser and polygonal finials on the sides. The tires are designed ornate but very successful because they are quite consistent with the general line of the car. Shortly Fiat Bravo is normal, not only outside but also under the hood and inside.
The interior has been completely changed, including the seating arrangements. Now only has four seats, although it has improved since each seat comfort is individual and the rear have multimedia systems that can see from movies to images captured by multiple cameras located outside the car.
The instrument panel has been redesigned, but in addition also new materials have been integrated to improve the experience of driver and passenger. To make the experience more aggressive and sporty, the Fiat Bravo Extreme also must keep up at the motor.
And it is because it has been adopted for this preparation a legacy engine of a Fiat Coupe run with Fiat Linea. The engine is a 1.4 T-jet of 16 valves, petrol and turbo. The power that reaches this engine is 253 HP at 6.600 rpm and a torque of 325 Nm.
That's not all because the suspension has been revised to withstand this level of benefits, there is a 10% more rigid, makes the car go 5 mm lower and equip specific shock absorbers for this model. It looks of being an entertained car to being furious.