With Prisma, Chevrolet completed an important phase of product launches in the Brazilian market. Products mainly locally developed following a strategy that began with the first generation of Prisma in 2006.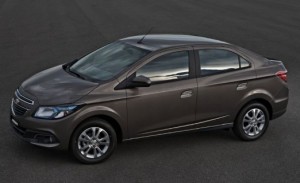 In 2006, Prisma was the first car developed locally by research department GM in Brazil. Since then, significant investments have led to a rise of the unit, which will be launched in recent years Agile, Cobalt, Spin, Onix and finally the new Prisma. While taking part in the development of TrailBlazer. Intended products at the local market, but so international with the image of the Cobalt which will arrive soon to Russia, or of the Spin Minivan in Asia. For its part, Prisma faces Brazil Volkswagen Voyage, Fiat Siena, Renault Logan and the future Hyundai HB20 sedan.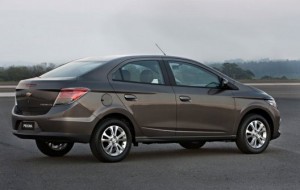 Prisma complete by the low supply sedan Chevrolet in Brazil. A range composed in order of pricing Prisma, Cobalt, Sonic, Cruze and Malibu. The 5 models, including 3 in the B segment. Less expensive, the Prisma does not play patterns of junk, with a style that is also more dynamic as young as the Cobalt, adapting to different customer target. Better yet, Prisma does not appear as one Onix (which it retains the wheelbase of 2528 mm) with a backpack and rarely a segment notchback sedan showed also balanced proportions. The length is 4275 mm. This does not prevent it from offering a trunk volume of appreciable 500 liters.
The previous Prisma resumed the basis of the old Corsa B, the new resume based GM Global Small Vehicle also used for Spin or Sonic (Aveo alias). The new generation should take a leap in ride quality. Also by modern equipment with standard steering, reversing radar, ABS, front airbags or seat height adjustable for driver. There are also partially digital instrumentation or the touch screen with the MyLink system (navigation, Bluetooth telephone, internet radio …). According to the versions and options, Prisma can also receive a hands-free access or a rearview camera.
In the mechanical chapter, engines include the 1.0 and 1.4 liter of 80 and 106 hp, with manual 5 speeds. Two engines are designed to operate with ethanol (78 and 98 hp with the fuel).