Chaparral 2X Vision Concept
At the Los Angeles Motor Show Chevrolet has unveiled the occasion Vision Gran Turismo concept. But the racing car in question is not called Chevrolet but Chaparral. Explanations.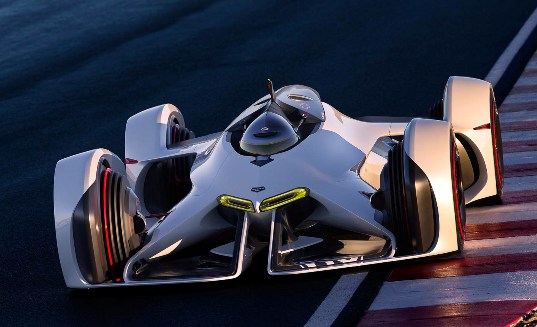 Unlike Ford, General Motors was not officially involved in sports prototypes in the 1960s but that does not mean the Detroit giant was not interested in the discipline, and then most followed in the United States as Europe. GM quietly supported Chaparral, a small manufacturer whose cars have marked auto sport by their technological advances. Jim Hall, visionary engineer and pilot in command of Chaparral, benefited secretly from help and technical resources of the center for research and development of GM. Technological innovations were numerous, especially work on aerodynamics and ground effect, but also experimenting with the use of an automatic race.
The epic of Chaparral in prototype culminated with the 2J and its 'vacuum', a concept of ground effect which would draw a few years later Gordon Murray for the famous Brabham BT46B of 1978 Swedish Grand Prix. As case of F1, the Chaparral 2J was outlawed almost immediately. Chaparral then retired from endurance to devote itself to the Indycar, a discipline in which the team was active until 1996.
Chevrolet decided to ally with Jim Hall to resurrect the badge for his concept Vision Gran Turismo, and made direct reference to the past and by taking the nomenclature "2", naming the 2X car. Jim Hall gave his imprimatur to the concept that, in the radically futuristic spirit of the Chaparral of the past in the laser-based propulsion mode, pilot's position or the appearance of the car.
While other Vision Gran Turismo concepts would almost ready for the track, we will not see the Chaparral Vision Concept up the straight line of the Sarthe circuit as it does in the video, except in Gran Turismo 6 for which the car will be downloadable soon. A scale 1 model sat on the Chevrolet stand in LA.