This is a technical point that BMW chose to unveil the production version of the i8. That will be the first car brand to take advantage of the new generation of 3-cylinder engines, but rechargeable hybrid mode.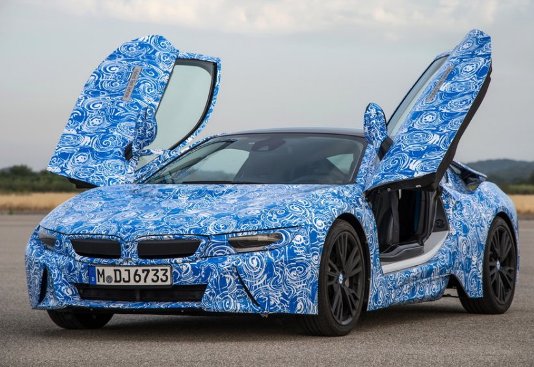 By its name, the i8 is part of the new range i, but also to the family of BMW 8. After 8 series and Z8. The top of the basket of the Bavarian brand, which has therefore developed the small dishes in large to make a grand entrance on the sports coupe market 2+2 places. The style is still hidden behind its blue camouflage, but should be relatively close to the concept, the less glass doors.
As already mentioned, the i8 uses the same design principle structure that i3. Called LifeDrive, this architecture is based on an aluminum structure that supports all technical components, suspension, battery, engine and rear engine power to the front. The body made of CFRP (Carbon Fiber Reinforced Plastic) dresses all with relief research in all fields to complete. Glazing to the wheels through the structure of dashboard in magnesium. With the result announced in the mass 1490 kg.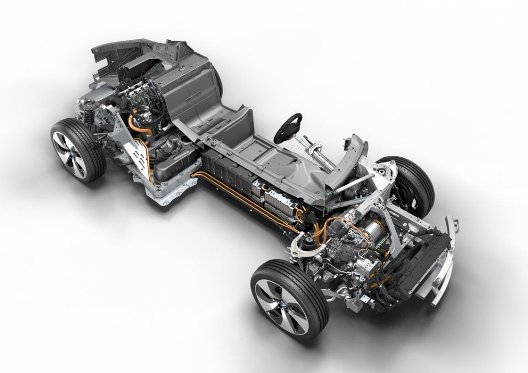 Not bad for a 2+2 coupe of 4689 mm long and 1942 mm wide. The height is limited to 1293, and the wheelbase displays 2800 mm. Reduced mass, but behavior preserved with masses distributed so evenly between the front and rear, and center of gravity low. The lowest in the BMW range. The aerodynamics has also been careful work and i8 announces a Cx of 0.26.
On the market to which it intends to tackle (clearly, the Porsche 911 …), the i8 will be distinguished by its mechanical choices. The Bavarian manufacturer has agreed to make a cross on the gain of nobility by the number of cylinders. The thermal engine located in the rear only has therefore three. This is the new 1.5 liter petrol group, and it boasts 170 kilowatts/231 hp/320 Nm. A cavalry to the rear wheels via a standard 6-speed automatic transmission. Is it little for the segment? Yes, but it is assisted by an electric motor that drives the front wheels and adds 96 kilowatts/131 hp/250 Nm, with a two floors gearbox.
In figures, BMW announced a 0 to 100 km/h in 4″5 and a maximum speed of 250 km/h (limited). Consumption cycle is estimated at 2.5L/100 km or 59g/km, knowing that the European advantage largely rechargeable hybrid cycle. Because the battery will recharge on a terminal or on a classical outlet, and provides a autonomy in all-electric of 35 km. The total range is 500 km using the comfort dynamic behavior management mode, and you can earn up to 20% in Eco Pro mode. This dynamic management, which is also involved in the controlled amortization series, includes a Sport mode. Compared to other models of the brand, this device also works on how to manage energy recovery.