720 hp for the G-Power M3 GT2 R
Before the arrival of the BMW M4, successor to the current M3, the German specialist G-Power decided to give one last magic wand to the M3. It is called M3 GT2 R and it has very little to do with the production version of the e92 M3.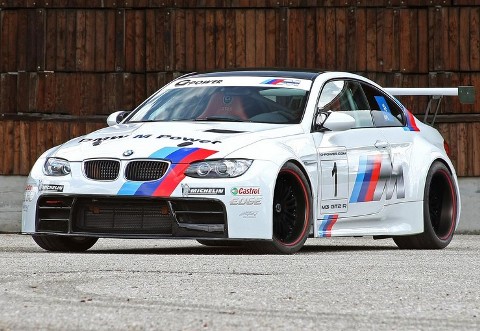 G-Power is known for its monstrous achievements that often go well beyond the 700 hp. For example, when G-Power attacks the X6M, the SUV reached 725 hp … It is not the first project on the G-Power M3 since the Germans have ever imagined the M3 Tornado RS (720 hp), the M3 RS (720 hp) or the M3 GT2 S, the precursor of GT2 R already proposed 600 hp.
Clearly inspired by the M3 GT2 that the heyday of the ALMS, GT2 R would be a quasi-civilized version of the file that the circuits. It shares the same colors, enjoys flared fenders, of a lowered body, with wide tires, an oversized rear spoiler or air intakes on the front bumper more impressive. Inside it is a little more comfortable with the presence of alcantara and leather but a rollbar and bucket seats quickly remind the occupants the power under the hood has…
720 hp and 700 Nm of torque at 5900 tr/min is the power of the German monster all for less than 1500 kg. The performances are being felt with a 0 in 100 shot in 3.7 seconds and a maximum speed displayed at 330 km/h. If this pretty little lot you try, it will still leave 195,310 euros while the engine kit costs 41,650 euros and external changes reach 30,000 euros.