Yes, almost everything would be summarized in the title of this post following the initiative taken by Audi across the channel: celebrating the end of the current career of the Audi A3 Cabriolet, a final series will be positioning itself as a swansong.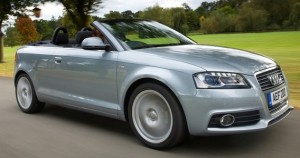 This is the other side of the Channel that A3 Final Edition is therefore mark the end of the current generation and the next is emerging as a new silhouette. Specifically S Line Final Edition and Sport Final Edition come replace the Sport and S Line in the English catalog.
These two new catalog versions offering various facilities on average a customer benefit of £3,640. Both proposals will be sold with the 1.2 TFSI, the 1.8 TFSI and the 2.0 TFSI petrol when supply will be structured around the 1.6 TDI and 2.0 TDI.
Specifically the Sports Final Edition appears from £23 775 when the S Line Final Edition claimed £26 210.