2014 New York Auto Show: Kia Sedona
Kia does not abandon the large MPV market in the United States, and presents the new Sedona. A third generation tries to seduce a more upscale and more dynamic appearance.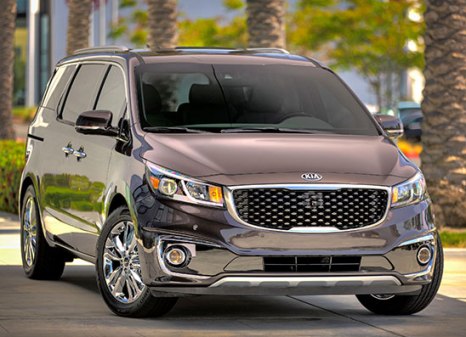 As did the Honda Odyssey, The Kia Sedona is trying to play the card of dynamism in his style to retain attracted customers by the SUV. Profile stretched with a longer wheelbase: 3056mm (36) for a length of 5156 mm. But what gives him his impression of length; it is his height which rose from 1780 to 1671 mm … A cut that benefits the impression of width, which is however unchanged (already generous): 1984 mm.
More down, the Sedona continues however well to build on its passenger compartment to seduce the families. The style is simple and inviting, and the privileged passengers will be especially in the second row, with the option of two individual seats with great comfort (with leg rests) and heated. Or a three-seater bench, completed in all cases by the seat three places in the third, folding under the floor.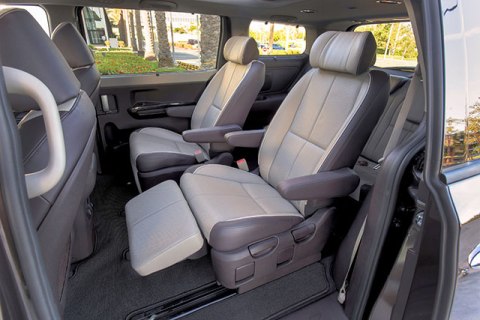 Accessibility was cared for, not only for the third row (kinematics of second row generating a wide access), but generally also: lighting of welcome which glows as soon as the key enters the detection zone, tailgate that opens automatically as soon as quela key stationed more than 3 seconds in the rear perimeter…
Mechanical side, Kia is classic about this offer: a great big V6. The 3.5-liter here gives its place 3.3L direct injection known Sorento. 276 hp and 336 Nm transmitted to the front wheels via a 6-speed automatic transmission. A generational change which also marks the arrival of driver aids: Adaptive Cruise Control, blind spot monitoring, collision warning, 360° cameras, traffic monitoring at the rear maneuver…