The 14th generation Toyota Crown has arrived. The large sedan, equivalent to a Mercedes E Class or 5 Series, is an important car for Toyota on its national market. Its never really left the borders of Japan, except in a few Southeast Asia markets, and is directly designed for the more conservative Japanese consumer tastes.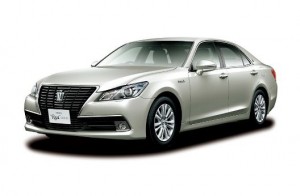 The Crown sharing the platform of the Lexus GS in a performance much more classical, even if this time, in line with the renewal of the design to end of arm by Akio Toyoda, it dares a single-frame grille much more aggressive than the past. The range is divided into two overall models, the Crown Royal plays respectability and is perfect in the role of the car, and Crown Athlete facing individuals and preferring a certain dynamism.
The 14th generation practice the downsizing. The two existing V6 are rolled, 2.5 liter with 203HP coupled to 6-speed automatic transmission and the 3.5 liter 315 horsepower coupled to 8-speed automatic, as on the Lexus GS.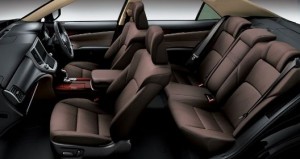 But the emphasis is on the time evolution of the system THS II consists of a new 4-cylinder 2.5-liter Atkinson cycle with direct injection D-4S 178 horsepower coupled to an engine power of 143 horsepower, which provides a consumption of less than 5 liters per 100 km in the cycle (optimistic) JC08.
In terms of technological innovations, another constant of the Crown through the generations, the big news is this time a beam system that switches automatically the dipped-beam headlamps and back depending on the environment, and view 360 degrees for the switching system. Prices are down in the outgoing generation and range from 3,530,000 yen and 5,750,000 yen.