The Volkswagen E-Golf for German police
Volkswagen has revealed its new e-Golf "police" ahead of its official launch scheduled for the International Exhibition of Police in Leipzig, Germany. Painted with the traditional delivered from the local police, blue and gray, the E-Golf will be equipped with special equipment whose traditional flashing light or radio transmitter to keep in touch with other patrols.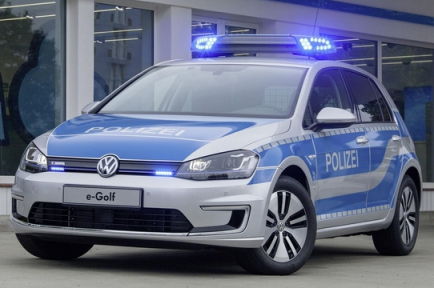 Apart from these few minor differences, the e-Golf police will be technically, the same that the model based on the MQB platform common base to more than 40 models of the group present and future, and powered by a 115-hp electric block for 270 Nm of torque, to accomplish the 0 to 100 km/h in 10.4 seconds. The autonomy on a single charge is estimated at 190 km maximum.
Although the choice of the power may seem strange, the German police have at least merit of giving a "green" image of their institution. However, hope that chases do not last too long of course.
This e-Golf is added to Germanic fleet already varied, composed in others the Opel Insignia Tourer, BMW X3, the new Mercedes A-Class or the most desirable Porsche 997 Carrera S. The fact remains that there is still much path to German neighbors to bridge the gap that separates them with their colleagues from Abu Dhabi and their Chevrolet Camaro or another Nissan GTR.