Renault Sport RS 01 is revealed
The new weapon of massive competition from Renault Sport, RS 01, distills the sports galore. Between carbon hull, 500 horsepower, high torque and aerodynamics licked, the RS 01 is among the prestigious series.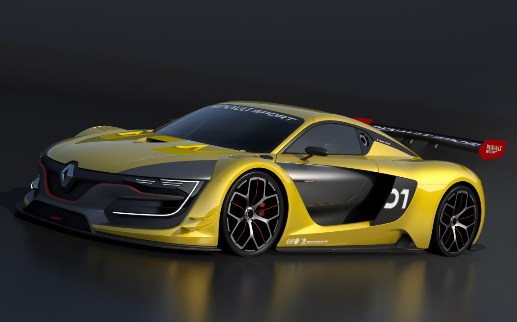 Before turning to the data sheet of this new race car will replace the Megane Trophy starting next year, we are interested in its design. Clearly inspired by the current design of Renault, the RS 01 was supervised by the inevitable Laurens van den Acker and his team. Unlike the Megane Trophy, this car does not have the traits of a series of Renault car but eyeing rather on the side of the Dezir concept car for its lines.
The front expressive blends typical Renault grille with the logo very upright in the middle of the "bowtie" arabesques with the usual RS models. Sirius yellow gives way to gray highlighted with red threads and the LED light signature.
The wings are very wide and the car is very low. 2m wide and 1.11m high, the profile is even more slender. The roofline joins the rear wings which hosts LED lights again reduced to their simplest expression. They are sandwiched between the huge spoiler and the equally huge diffuser. Obviously these elements were dictated by the performance more than aesthetics.
For performances precisely, the car is based on a mono shell carbon that meets the FIA safety standards of LM P1. The "tub" has a 150 liter tank at the rear, a steel roll cage on the upper part and a crash box at the front. Another shock absorbing structure is attached to the gearbox to the rear bumper.
The gearbox made by Sadev is a sequential to 7 report in longitudinal position. It is attached to a V6 bi-turbo 3.8L well known since this is none other than the Nissan GT-R here in its Nismo revision. Specifically for the RS 01, the casing passes a dry model avoiding unfortunate lift-off. Thus equipped, the RS 01 is developing more than 500 horsepower and a torque of over 600 Nm.
With its low weight below 1,100 kg and its supercar engine, the RS 01 is placed immediately among the GT top of the basket. According to Renault Sport, the new car is between a GT3 and DTM car. SCz as CdA (lift and drag) are those of a single-seater FR 3.5 (the World Series by Renault) and RS 01 generates 1,700 kg of support to 300 km/h (top speed). This means that the car is literally pinned to the ground.
The RS 01 will be on track of the next year, but a model is exposed right now in Moscow Motor Show.