Mercedes CLS, discrete update
The new Mercedes CLS thus unveils its changes, which are primarily technical. Its stylistic personality remains largely unchanged.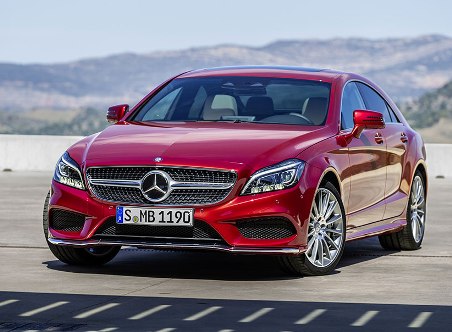 Announced a few days ago, the new CLS has a new look thanks to its new headlights with Multibeam LED technology. A technology that will remain optional. The standard conventional LED headlights will be waiting for you, and bi-xenon lighting draws its bow. Grille and bumper are also reviewed and aligned with the CLS on the latest Mercedes: A-Class, CLA, C or S.
The interior has also evolved to use a large 8-inch screen planted on top of the dashboard. Integration for which the dashboard was not originally planned and which is singularly lacking of homogeneity… it is however not entitled to the Touchpad to complete the rotary control on the center console.
The evolution of the mechanical range is quite wide. In diesel, the CLS250 CDI (2.1 L 4 cylinders, 204 hp, 500 Nm) becomes CLS250 Bluetec and complies with the Euro 6 standard. It was associated with a new 9 speed automatic transmission, which lowers CO2 emissions to 122 g/km in the combined cycle. 9-speed gearbox found on the CLS350 Bluetec, including the 3.0l V6 258 hp and 620 Nm now shows 140 g/km of CO2 emissions. Two diesel versions are now available, CLS250 and CLS350 Bluetec, both with the 7-speed gear box.
A diesel range now opens with the CLS220 Bluetec: 2.1L 4-cylinder 170 hp and 400 Nm. It also receives the 9G-Tronic gearbox and displays 122 g/km CO2 emissions..
In essence, the range starts now quite high, with the CLS400. Its 3.0l V6 twin-turbo develops 333 hp and 480 Nm of emissions from 169 g/km. If the CLS400 retains the 7G-Tronic gearbox (2 or 4 wheel drive), the CLS500 is entitled to 9 speed version which allows it to pass its Co2 emissions by 209 to 199 g/km. The 4-wheel drive version retains the gearbox to 7-speed.
No mechanical change for the CLS63 AMG. The M157 5.5L V8 produces always in 2 or 4 wheel drive for the CLS63 AMG and CLS63 AMG 4Matic, and 585 hp on the CLS 63 AMG S 4Matic version.