Lotus Evora Sports Racer: super discount
A manufacturer who launches a limited edition, with an offer of promotion, the end of the year, it is quite common… in general. However, for Lotus, the times are so hard that they enter into advance balances.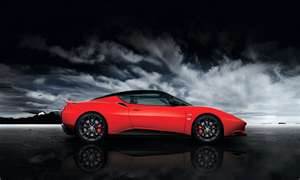 Like any limited edition Evora Sports Racer receives unusual colors: Aspen White, Carbon Grey, Ardent Red and Blue Nightfall. Roof, sills, spoiler, diffuser, rims and mirrors are painted in black gloss. You can also choose the color of the brake calipers: red or black.
The seat "premium sports" receive black leather with red stitching (or red leather with black stitching). The dashboard is covered with gray and red velvet. The Evora S will additionally offers a gunmetal instrumentation.
Side equipment, the Sports Racer is entitled to the "Sports Pack" with better responsiveness of the accelerator, limiting device of higher mode, more permissive DPM, exhaust sport and drilled brake discs.
The "tech pack" includes a stereo with DVD player, 7 inch screen, more powerful speakers, Bluetooth and USB port. The reversing camera and electric mirrors are also standard.
And all this, ladies and gentlemen for £57,900 – €71,000 – (Evora at all) and £65,900 – €81,000 – (Evora S), respectively £6,450 and £7,150 discount!