Hyundai does not spare its efforts to get a place on the market from the top of range apart from its national market. Evidence that the image of the manufacturer is positive, the big names in luxury do not hesitate to join him, like Hermes…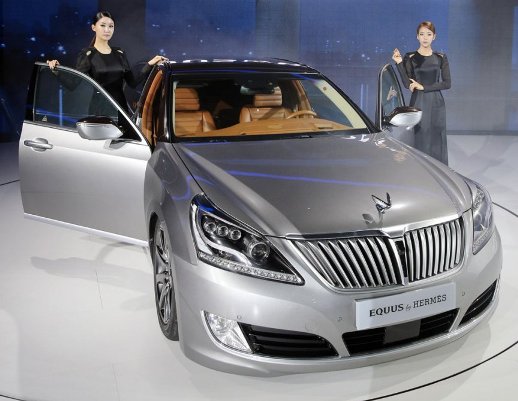 The French luxury or with European is a great success in the whole world, and particularly in Asia. However, these brands are still very reluctant to associate their name with the automobile. And it's Hyundai manages to make them take the plunge. After a very limited edition of Genesis by Prada, here now a Equus by Hermes.
The result of two years of trade between the two partners took over the base of the limousine version of Equus, and gets dressed with most beautiful leathers of the French saddler and specific facilities: crocodile skin on the decorations of doors in the rear, center console on the length hosting refrigerated storage shelves, supports for crystal glasses… Outside, the two-tone body is adorned with Hermes logos out of leather on the B amount.
Three specimens were carried out, but none is intended for the sale. It was of course also the case of the 2CV on display at the 2008 World. But other vehicles were sold with Hermes signature. Very exclusive as the Bugatti Veyron Fbg, or a little less like the Smart Fortwo Toile H…