Ford, Ka and Edge confirmed for Europe
Simultaneously with the global launch of the new Mustang, Ford held a big conference in Barcelona to announce new models in Europe. The arrival of Ka and Edge has been officially confirmed.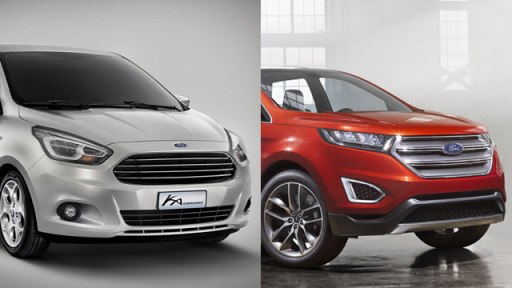 The Mustang was introduced simultaneously in several parts of the world, but it is in Barcelona as the main ceremony was held with the participation of Bill Ford. For the second consecutive year, Ford stood indeed a great event called "Go Further". Last year in Amsterdam, the brand is unveiled its new range of utilities, in the street today: Transit Courier, Transit Connect, Transit Custom and Transit.
This year, there was the star Mustang, in coupe and convertible, but also two new products already shown, but confirmed for next arrival in Europe. At both ends of the range.
The new Ka shown as a concept in Brazil will be well and truly a global car, since it will present in South America, southeast Asia, India, but also in Europe.
As for the Edge crossover, which was only supposition is real. It will come to its second generation support the Ecosport and Kuga on the market of the crossover and SUV, and also give a boost to the brand in the field of high-end alongside the Mondeo and S-Max.
These two innovations are expected to arrive in 2015. 2014 to be the year of launch (finally!) of the Mondeo and S-Max.