Brabus G-Class 800 Widestar
Brabus could not of course remain deaf with the calls of a G-Class even more powerful, which more is equipped with V12… After G63 AMG, it is thus G65 which passes between its hands.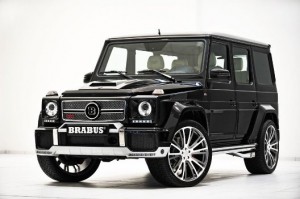 G an even more powerful? Just ask Brabus, who now share the G65 AMG, the Mercedes most expensive catalog to give birth to G 800 Widestar. You'll understand with its name, it offers 800 hp, starting from V12 6.0L twin turbo of "only" 612 hp at the origin.
The couple also jumped in the same proportions. If 1000 Nm is not enough, Brabus is increased to 1420, at 2100 rev/min. That said, the box can not support such a couple, which is limited to 1,100 Nm. The performances are thus explosive compared to the age of the base and its aerodynamics of extremely Swiss trunk: 0 to 100 km/h in 4″2 and a top speed limited to 250 km/h, or 30 more than the standard G65. In theory, Brabus indicates that the device is capable of 270 km/h … The engine is expressed (or not) via an exhaust line with valves controlled.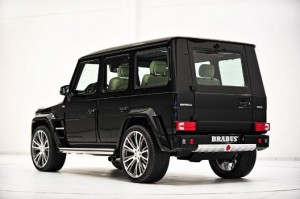 For style, there is a kit called Widestar adds 12 cm in width to the G-Class, steps lighted, daytime running lights further down Brabus logos that light shield to unlock doors and generous 23-inch wheels. With which the G will remain confined to a role that is not it's originally a bitumen eater……
As for the interior, it is left to your discretion: leather, wood, carbon…