2018 Toyota Etios, brings changes in the visual
The Toyota Etios has just undergone new changes. This time, the compact debut in the line 2018, yes it's already line 2018!!! With visual changes, a new front grille with a narrower shape and a redesigned front and rear bumper. Until then, the new front was only available for the special versions of Ready and Platinum. Nevertheless, the "adventurer" Toyota Etios Cross hatchback follows with the old front.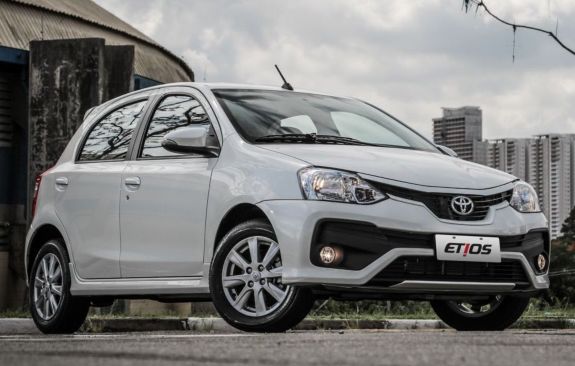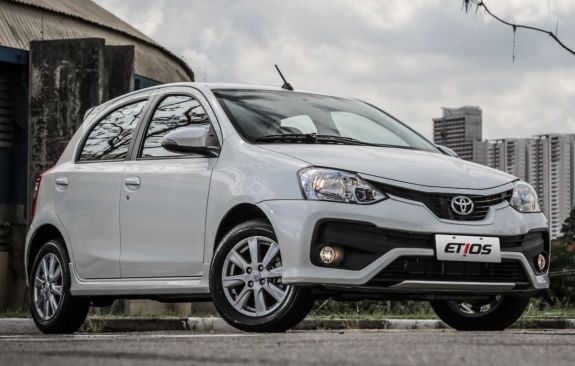 In addition, the XLS variant received new side skirts, also inherited from the Platinum model; while the Platinum earned a chrome detail on the front grille.
The range of 2018 Etios versions also underwent changes. The model continues to be offered with six-speed manual transmission and four-speed automatic. However, from now on, only the X and XS versions have both options, while Ready, XLS, Cross and Platinum are only available with the automatic gearbox.
Otherwise, the model is the same. The engine is a 1.3 liter Dual VVT-i flex of 16-valve, which yields 88 hp with gasoline and 98 hp with ethanol at 5,600 rpm, and torque of 12.3 and 12.8 kgf.m, respectively, at 4,000 rpm. There is also the 1.5 Dual VVT-i flex of 16-valve, capable of generating 102 and 107 hp at 5,600 rpm, and 14 and 14.4 kgf.m at 4,000 rpm. Both rely on block and aluminum head.
Among the equipment, the Toyota Etios X, of entry, offers items such as front airbags; ABS brakes; onboard computer; Toyota Smart Screen instrument panel with 4.2-inch TFT screen; Progressive electrical direction; air conditioning; Front and rear windows with electric drive; Electric locks; Rear seat with folding backrest, among others.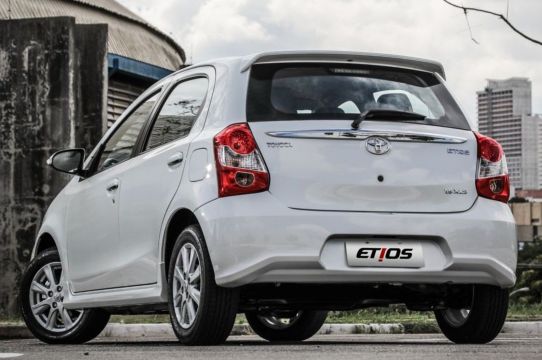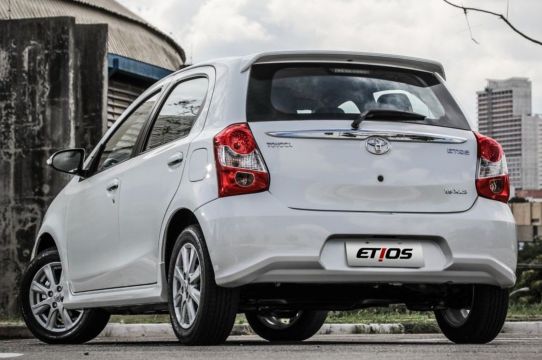 The XS model adds sound system with Bluetooth and auxiliary and USB inputs; Cruise control (automatic version); Steering wheel with audio controls and the on-board computer; interior chrome details; banks with fabric in two colors; rest arms in the driver's seat (automatic version only); speakers and tweeters; In addition to the Eco Wallet function in the on-board computer, which allows the driver to put the amount paid per liter of fuel, making it possible to calculate and monitor the amount spent during a trip.
In the case of the special edition Ready, which is based on the XS automatic hatchback, there is also organizer bag and trunk mats; Support for bags/backpacks; rear-view sensor and Toyota Play multimedia system, previously present only in the top-of-the-line Platinum version with audio, Bluetooth, digital TV, DVD and integrated GPS.
The Etios XLS includes 15 inch alloy wheels (in versions X and XS are 14 inch wheels and covered by hubcaps); audio system with touch screen, which allows mirroring of smartphones; Fog lights; Chromed finish on the trunk lid; standard leather steering wheel cover; external mirrors with integrated arrow indicators and comfortable driver's seats (leather trim).
Finally, the Toyota Etios Platinum offers all XLS items, plus 15-inch alloy wheels with sporty design; leather shift knob; black mask on the rear flashlight; chrome detail in the grid; Airfoil (in the sedan version); carpet mats and Toyota Play multimedia system with audio, Bluetooth, digital TV, DVD and integrated GPS.