A baby NSX in the cartons of Honda?
The boss of Honda announced a few days ago the arrival in the range of a small sports convertible. Fighting between the future and the ambitious NSX, there is room for an intermediate model…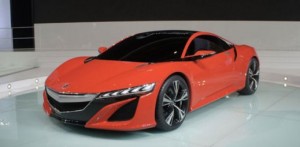 The new NSX has experienced a turbulent Genesis which should finally lead by a model in production in the coming years. A new coupe for Honda so, but who might not stay only in the catalog. Indeed, to improve the scope, dream maker to exploit the basis for developing a more affordable model.
More compact, this "baby NSX" would share many components with its big sister. The engine would be of course revised downward compared to the V6 3.5 l of the NSX, and we could find a 4 cylinder 2.4 L. Given the ambitions of Honda's hybrid, it could also use the latest generation of powertrain gasoline/electric manufacturer, for the new Accord in 2-wheel drive, and planned in 4 wheel drive in the NSX…
The NSX is scheduled for 2015, the declination more affordable will not happen in any case not before 2017…